---
Zendokai karate 2023 international camp 9th – 10th September
Zendokai karate welcomes you to Zendokai karate 2023 International Camp in Halmstad, Sweden!
Since 2016 we have been hosting professional instructors in Halmstad for a weekend of training and personal development in early fall.
This year will be the 6th event and we proudly present three professional instructors from JKA Honbu dojo! On request Ogura Yasunori Sensei, 8 Dan and Shimizu Ryosuke Sensei, 6 Dan are returning to the seminar. Takahashi Satoshi Sensei, 7 Dan is a exciting premiere at our seminar. The seminar is an official JKA Sweden event fully hosted by Zendokai karate.
Camp poster: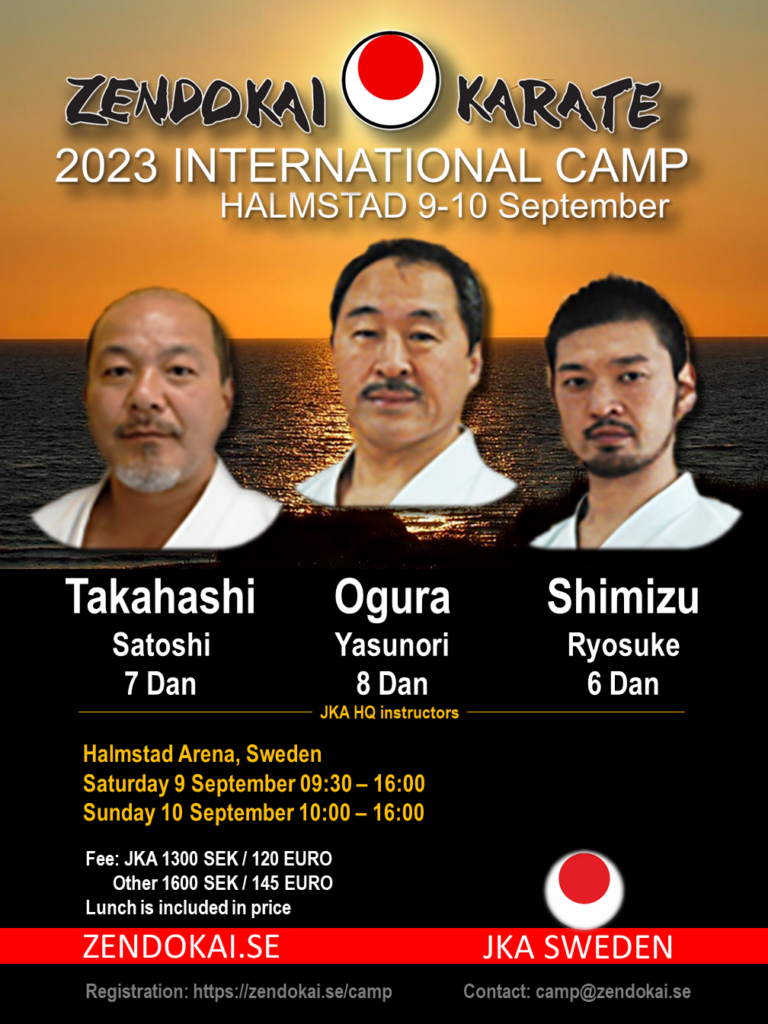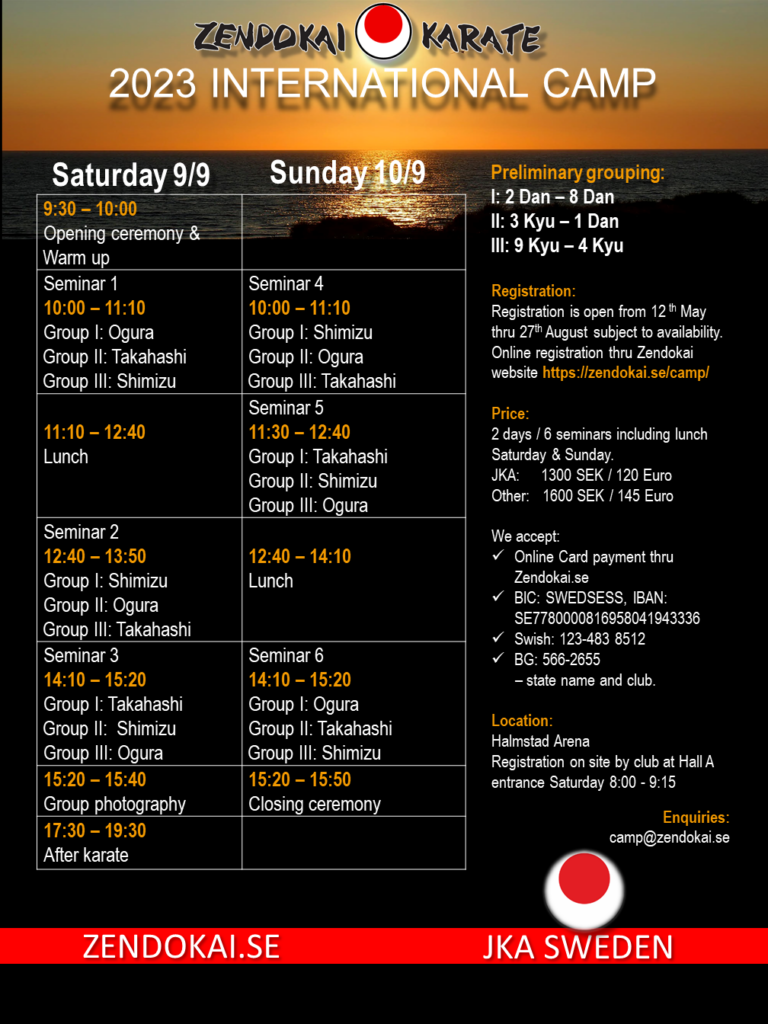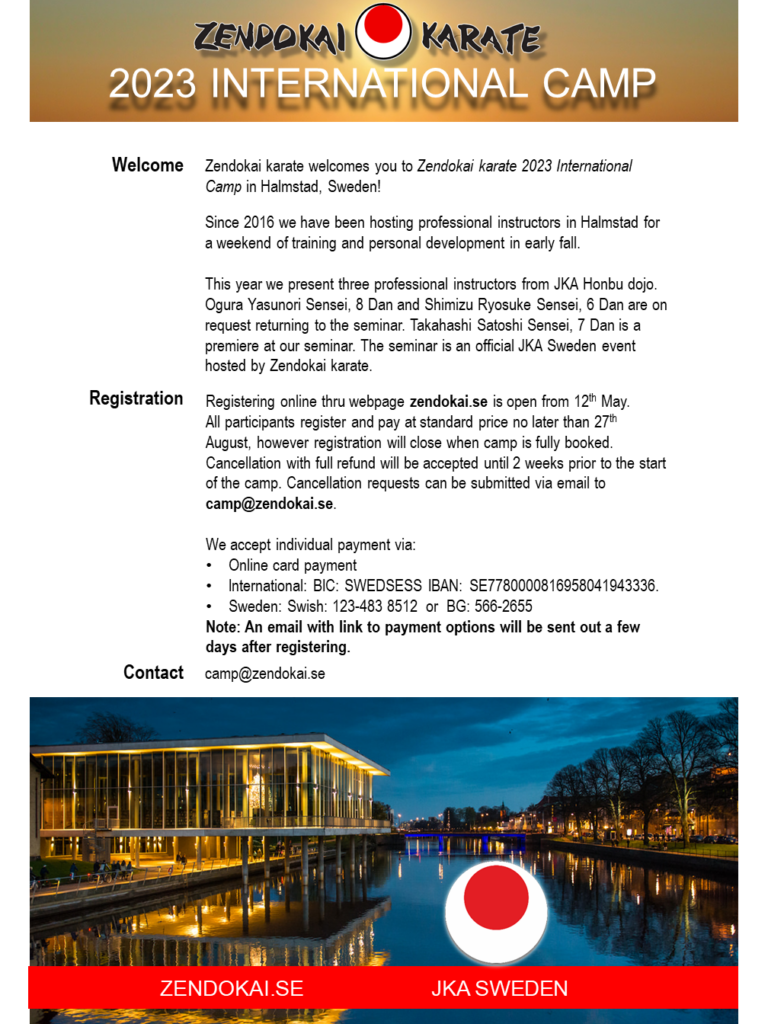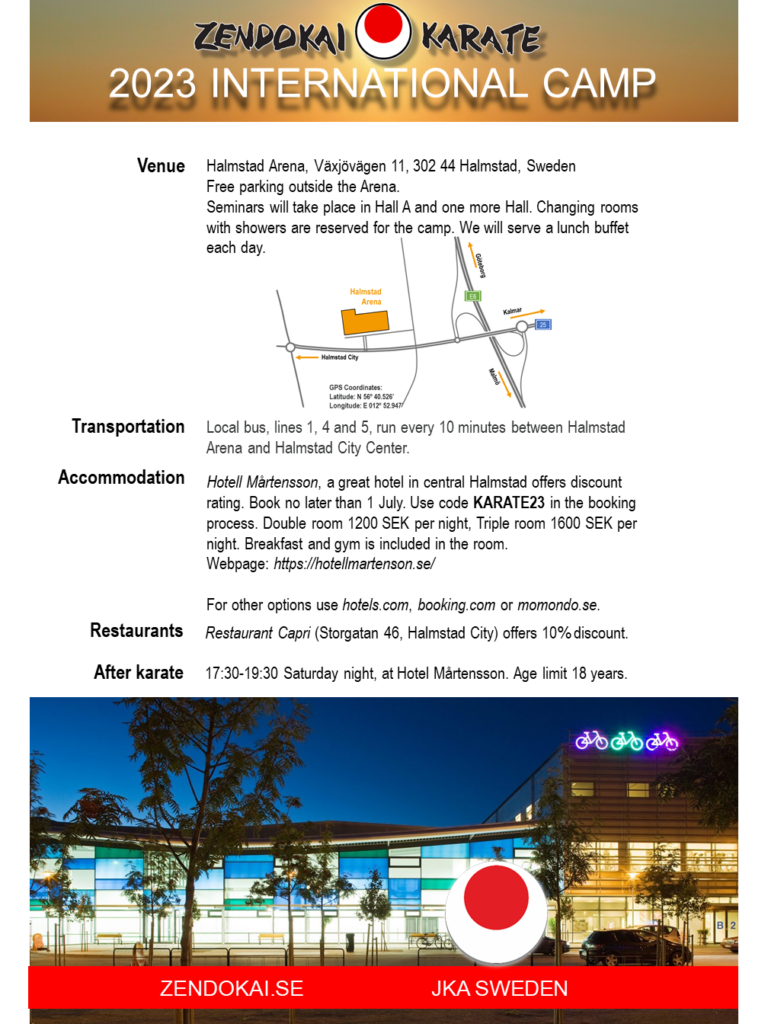 ---
Download Poster as PDF
Instructors:
Ogura Yasunori, 8 Dan
Takahashi Satoshi, 7 Dan
Shimizu Ryosuke, 6 Dan
Registration
Registration is open! Click HERE

All participants register and pay no later than 27th August, however registration will close when camp is fully booked.
To note: Cancellation with refund will be accepted until 2 weeks prior to the start of the camp. Cancellation requests can be submitted via email to camp@zendokai.se.
Price:
2 days / 6 seminars including lunch Saturday & Sunday.
JKA: 1300 SEK / 120 Euro
Other: 1600 SEK / 145 Euro
Zendokai members: See Email for price
The price include 2 days of training, a total of 6 session. Lunch is included in the price.
We accept individual payment via:
•Online card payment LINK TO ONLINE PAYMENT WILL BE PUBLISHED SHORTLY
•International: BIC: SWEDSESS IBAN: SE7780000816958041943336.
•Sweden: Swish: 123-483 8512 or BG: 566-2655
To note: An email with link to payment options will be sent out manually a few days after registering.
We do not refund cancellations later than two weeks prior to the camp. Swedish: Vi kan inte återbetala lägeravgift vid avbokning senare än två veckor innan lägret.
Location:
Halmstad arena, Halmstad Sweden
Note: Halmstad arena is located 300 m North of Zendokai Dojo.
Local bus, lines 1, 4 and 5, run every 10 minutes between Halmstad Arena and Halmstad City Center.
How to get to Halmstad:
By car: Halmstad is located along E6 135 km N of Malmoe, Sweden. Use exit 44 "Halmstad Östra / Rv25".
By train: Halmstad C via Malmoe/Copenhagen from S, Gothenburg/Oslo from N or train service "Krösatågen" from E.
By air: Option 1: Copenhagen international airport (CPH), hourly train service to Halmstad. Option 2: Gothenburg ariport (GOT), airport bus to Göteborg C, hourly train service to Halmstad. Option 3: Halmstad airport (HAD) from Stockholm Bromma airport (BMA).
By levitation (Zen master only): Aim your inner spirit at koordinates N56.6740968999714 E12.889344175028043.
Accommodation:
Zendokai karate have a discount rate on Hotell Mårtensson, a great hotel in central Halmstad: Google maps location.
Double room 1200 SEK per night (full price 1521 SEK)
Triple room 1600 SEK per night (full price 1971 SEK)
Breakfast and gym is included in the room.
The offer is valid for bookings no later than 1 July.
Use code KARATE23 in the booking process: LINK to Hotel Mårtensson booking in english

Find your own lodging: For best price on other options use hotels.com, booking.com or momondo.se.
PLEASE NOTE! No over night stay in Halmstad Arena
We will accept multiple payment options including Online Card payment thru confirmation email
After karate social event
17:30-19:30 Saturday night, at Hotel Mårtensson, Storgatan 52, Halmstad. Age limit 18 years.
Contact: camp@zendokai.se
---
Previous camp track record: 2016, 2017, 2018, 2019, 2022!
2022 International camp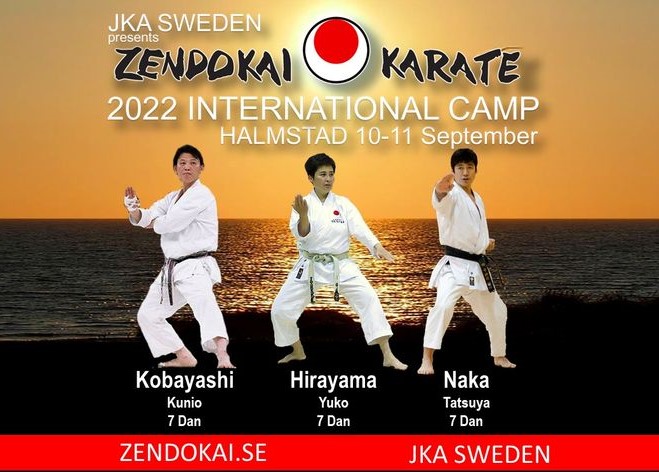 Naka Tatsuya, 7 Dan, JKA HQ
Kobayashi Kunio, 7 Dan, JKA HQ
Hirayama Yoko, 7 Dan, JKA HQ

---
2020-21 cancelled due to Pandemic restrictions
---
2019 International camp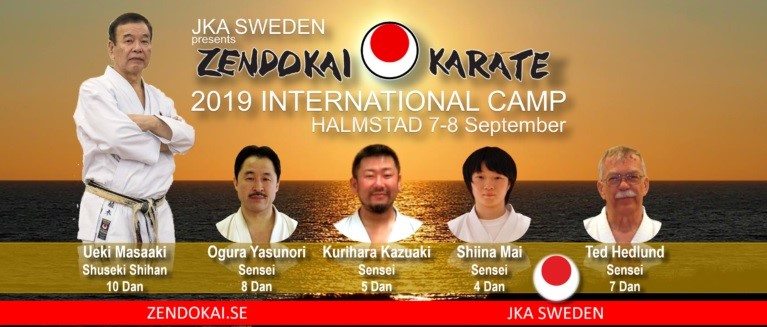 Ueki Masaaki Shuseki Shihan, 10 Dan, JKA HQ
Ogura Yasunori, 8 Dan, JKA HQ
Kurihara Kazuaki, 5 Dan, JKA HQ
Shiina Mai, 4 Dan, JKA HQ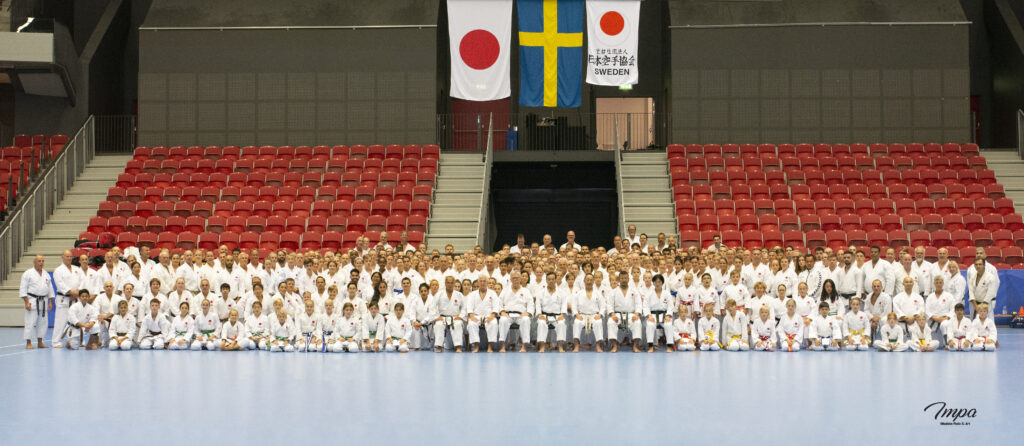 ---
2018 International camp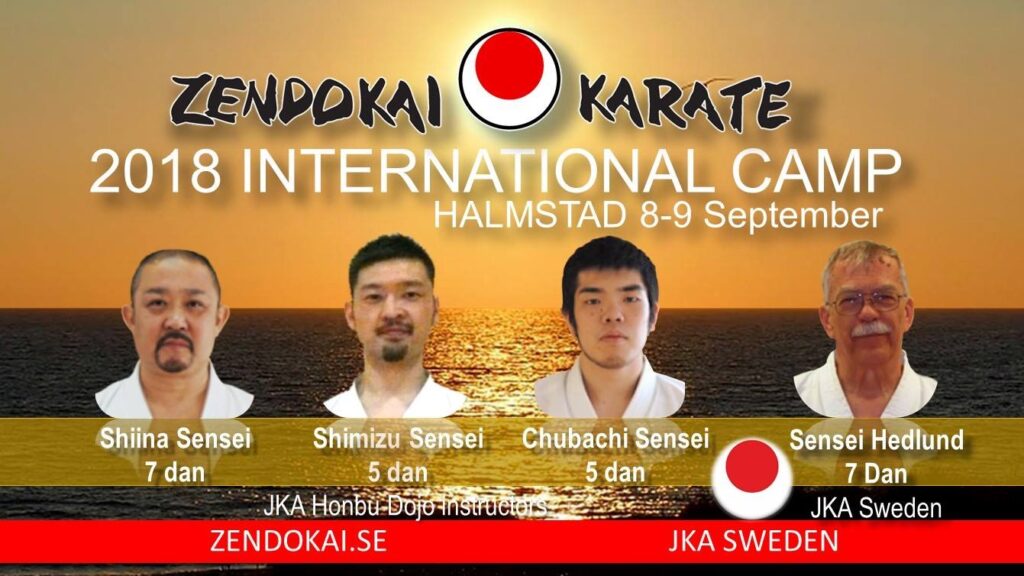 Shiina Katsutoshi, 7 Dan, JKA HQ
Shimizu Ryosuke, 5 Dan, JKA HQ
Chubachi Koji, 5 Dan, JKA HQ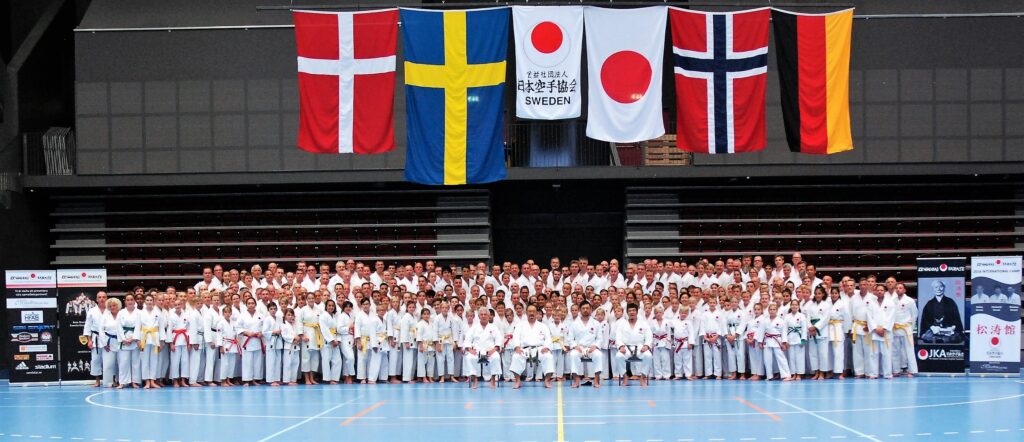 ---
2017 International camp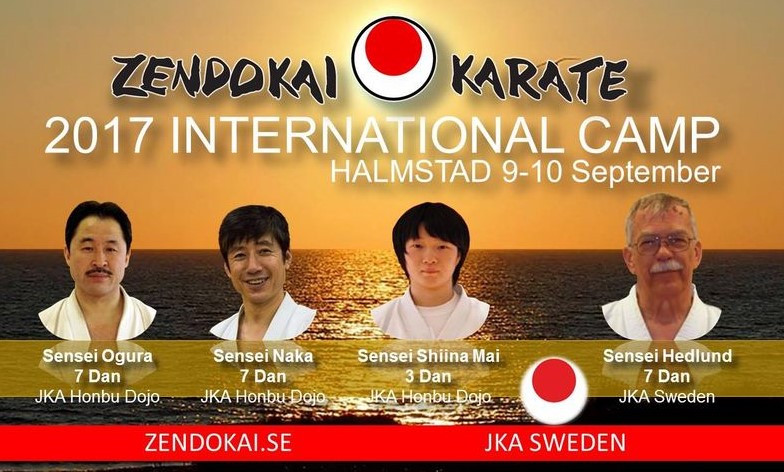 Ogura Yasunori, 7 Dan, JKA HQ
Naka Tatsuya, 7 Dan, JKA HQ
Shiina Mai, 3 Dan, JKA HQ

---
2016 International camp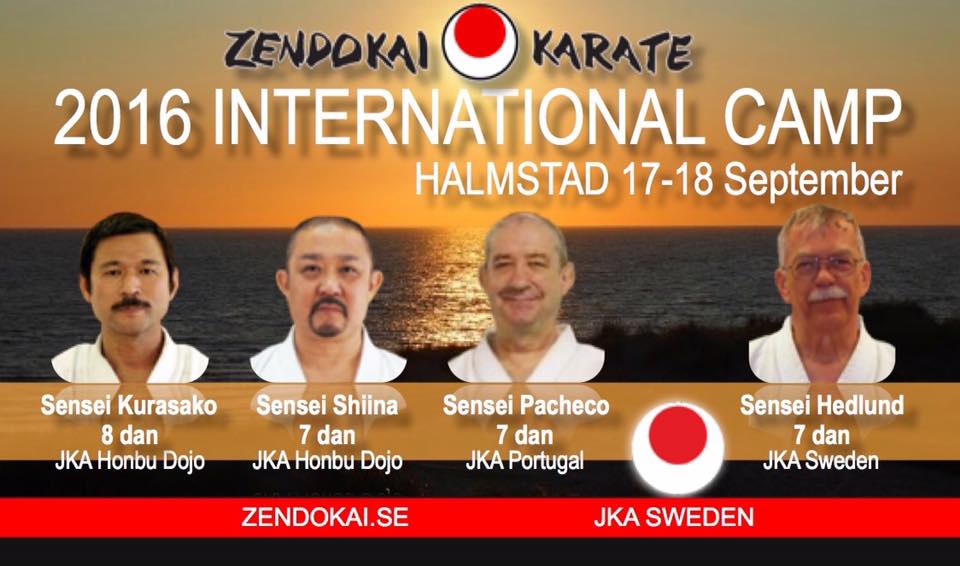 Kurasako Kenro, 8 Dan, JKA HQ
Shiina Katsutoshi, 7 Dan, JKA HQ
Pacheco Peté, 7 Dan, JKA Portugal
Hedlund Ted, 7 Dan, JKA Sweden