---
Zendokai karate 2024 international camp 7th – 8th September
Save the date! Zendokai karate welcomes you to Zendokai karate 2024 International Camp , 7-8 September in Halmstad, Sweden!
Since 2016 we have been hosting professional instructors in Halmstad for a weekend of training and personal development in early fall.
---
Instructors:
TBA
Registration
TBA
Price:
2 days / 6 seminars including lunch Saturday & Sunday.
JKA:     TBA
Other:   TBA
The price include 2 days of training, a total of 6 session. Lunch is included in the price.
We accept individual payment via:
•International: BIC: SWEDSESS IBAN: SE7780000816958041943336
•International online card payment: send an email to camp@zendokai.se for payment link from our cashier
•Sweden: Swish: 123-483 8512 or BG: 566-2655
To note: An email with link to payment options will be sent out manually a few days after registering.
We do not refund cancellations later than two weeks prior to the camp. Swedish: Vi kan inte återbetala lägeravgift vid avbokning senare än två veckor innan lägret.
Location:
Halmstad arena, Halmstad Sweden
Note: Halmstad arena is located 300 m North of Zendokai Dojo.
Local bus, lines 1, 4 and 5, run every 10 minutes between Halmstad Arena and Halmstad City Center.
How to get to Halmstad:
By car: Halmstad is located along E6 135 km N of Malmoe, Sweden. Use exit 44 "Halmstad Östra / Rv25".
By train: Halmstad C via Malmoe/Copenhagen from S, Gothenburg/Oslo from N or train service "Krösatågen" from E.
By air: Option 1: Copenhagen international airport (CPH), hourly train service to Halmstad. Option 2: Gothenburg ariport (GOT), airport bus to Göteborg C, hourly train service to Halmstad. Option 3: Halmstad airport (HAD) from Stockholm Bromma airport (BMA).
By levitation (Zen master only): Aim your inner spirit at koordinates N56.6740968999714 E12.889344175028043.
Accommodation:
Discount on local hotel TBA
Find your own lodging: For best price on other options use hotels.com, booking.com or momondo.se.
PLEASE NOTE! No over night stay in Halmstad Arena
After karate social event
17:30-19:30 Saturday night, at Hotel Mårtensson, Storgatan 52, Halmstad. Age limit 18 years.
Contact: camp@zendokai.se
---
Previous camp track record: 2016, 2017, 2018, 2019, 2022, 2023!
---
2023 International camp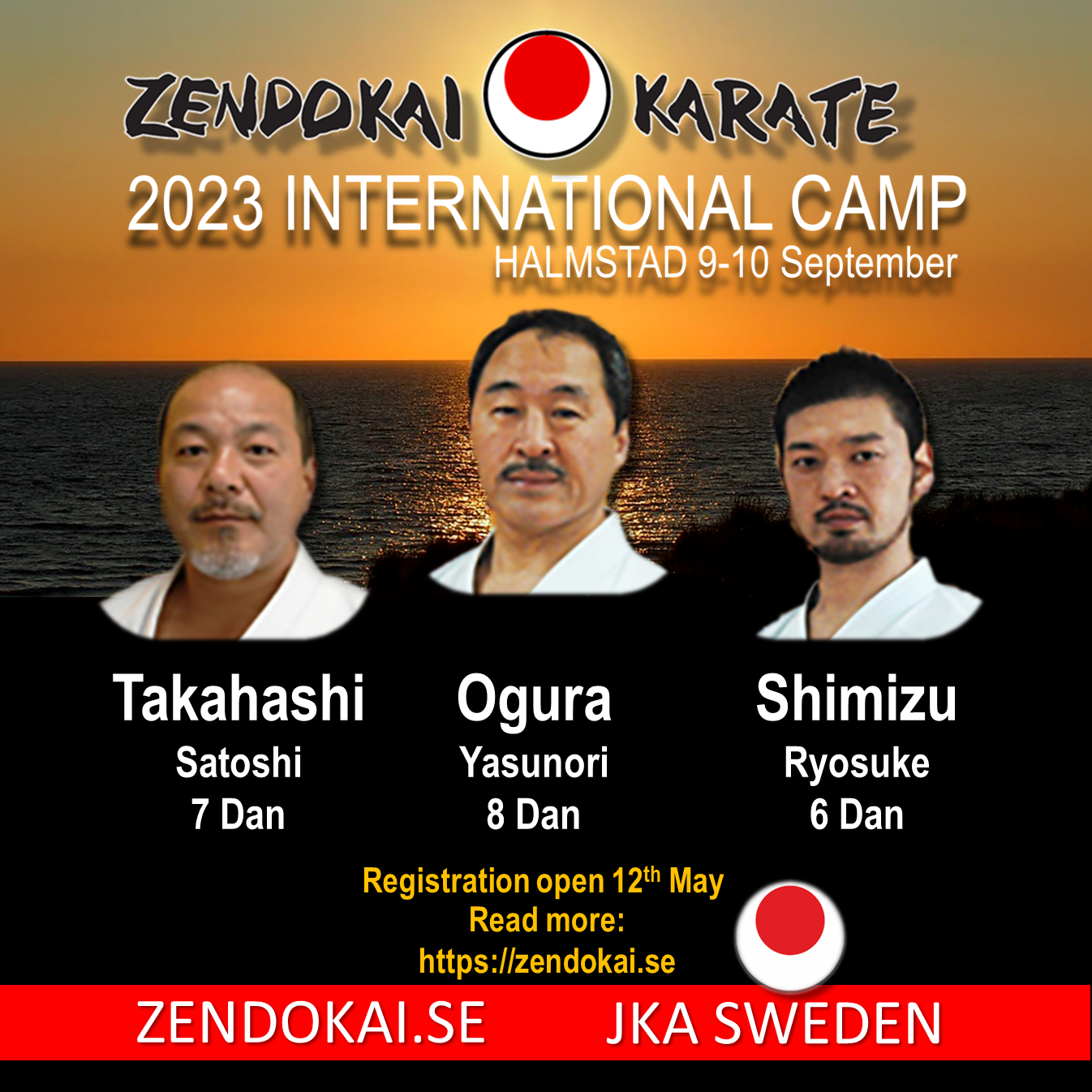 Ogura Yasunori, 8 Dan, JKA HQ
Takahashi Satoshi, 7 Dan, JKA HQ
Shimizu Ryosuke, 6 Dan, JKA HQ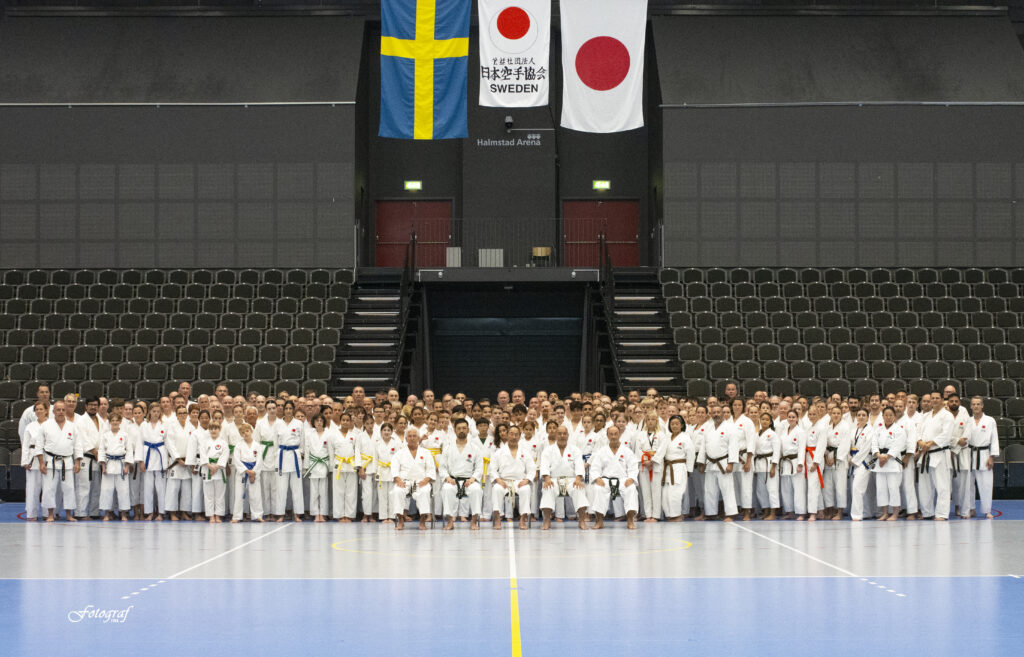 Pictures (FlikR) https://flic.kr/s/aHBqjAVhQP
---
2022 International camp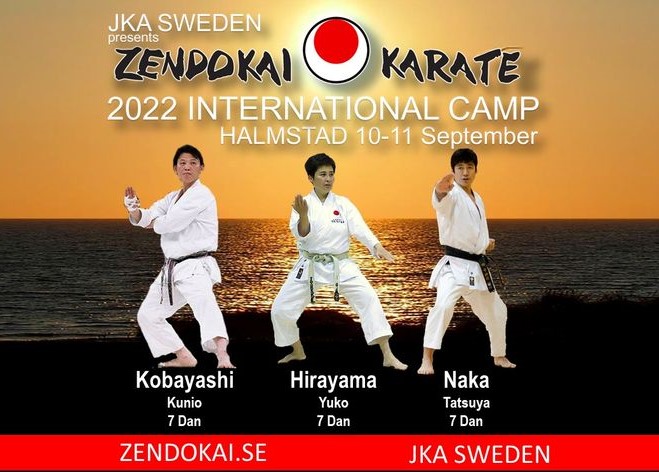 Naka Tatsuya, 7 Dan, JKA HQ
Kobayashi Kunio, 7 Dan, JKA HQ
Hirayama Yoko, 7 Dan, JKA HQ

Pictures (FlikR) https://flic.kr/s/aHBqjAe3i4
---
2020-21 cancelled due to Pandemic restrictions
---
2019 International camp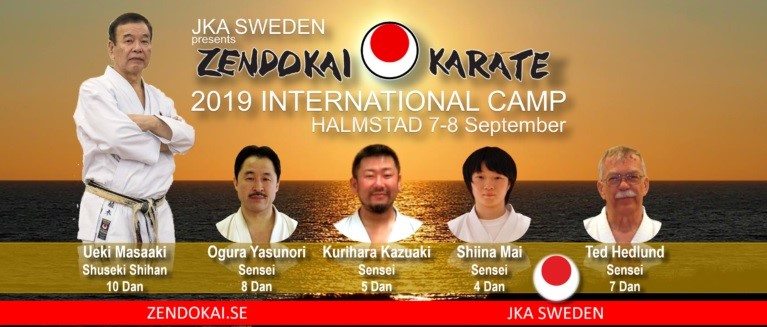 Ueki Masaaki Shuseki Shihan, 10 Dan, JKA HQ
Ogura Yasunori, 8 Dan, JKA HQ
Kurihara Kazuaki, 5 Dan, JKA HQ
Shiina Mai, 4 Dan, JKA HQ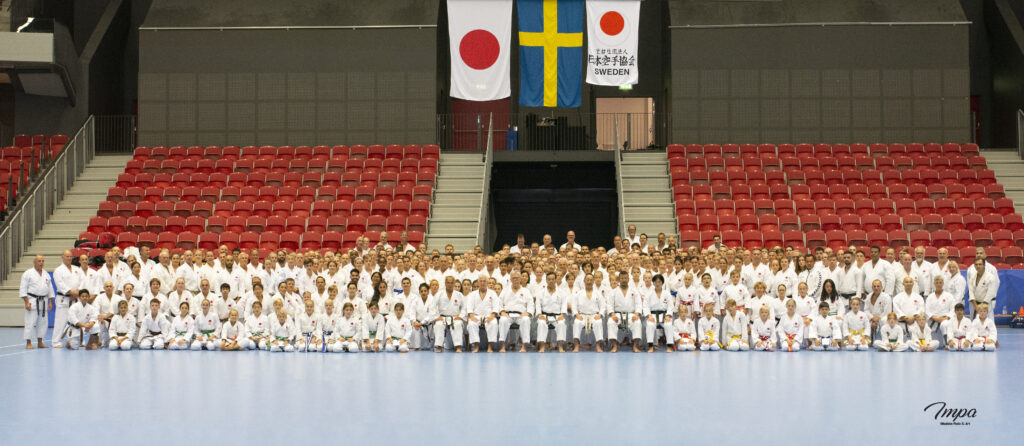 Pictures (FlikR) https://flic.kr/s/aHsmGRUYGG
---
2018 International camp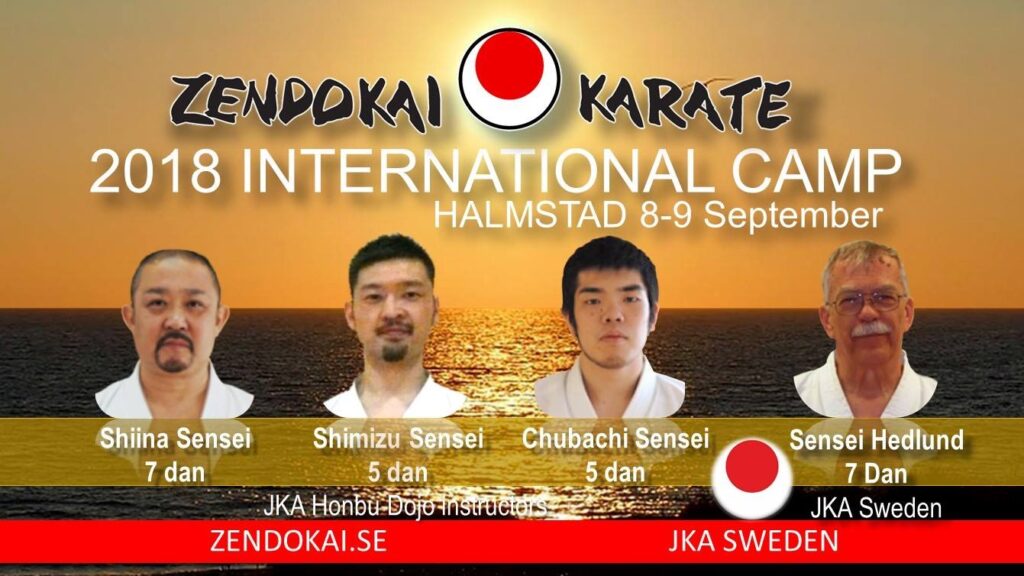 Shiina Katsutoshi, 7 Dan, JKA HQ
Shimizu Ryosuke, 5 Dan, JKA HQ
Chubachi Koji, 5 Dan, JKA HQ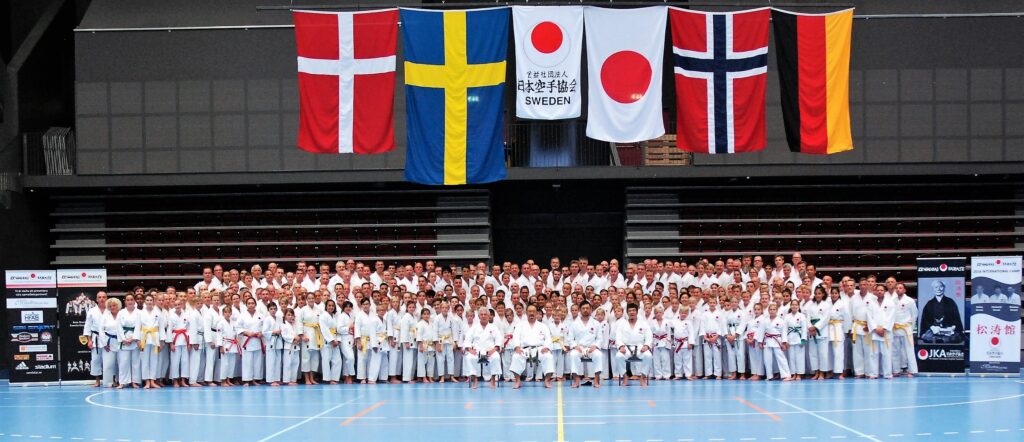 Pictures (FlikR) https://flic.kr/s/aHsmihV6Sd
---
2017 International camp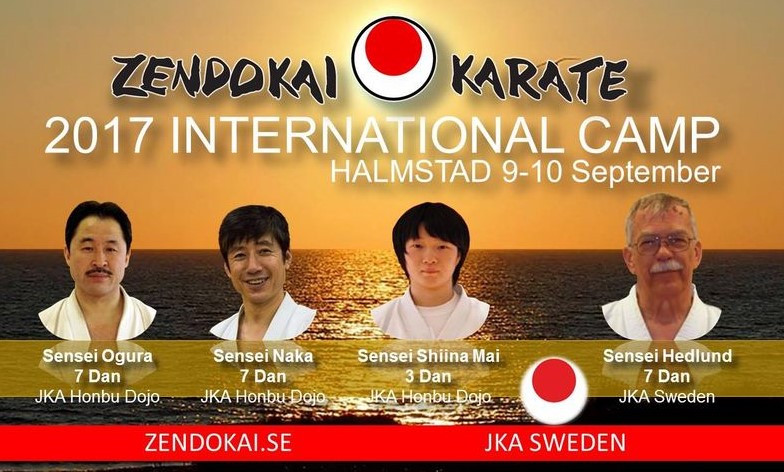 Ogura Yasunori, 7 Dan, JKA HQ
Naka Tatsuya, 7 Dan, JKA HQ
Shiina Mai, 3 Dan, JKA HQ

Pictures (FlikR) https://flic.kr/s/aHsm8XSW5c
---
2016 International camp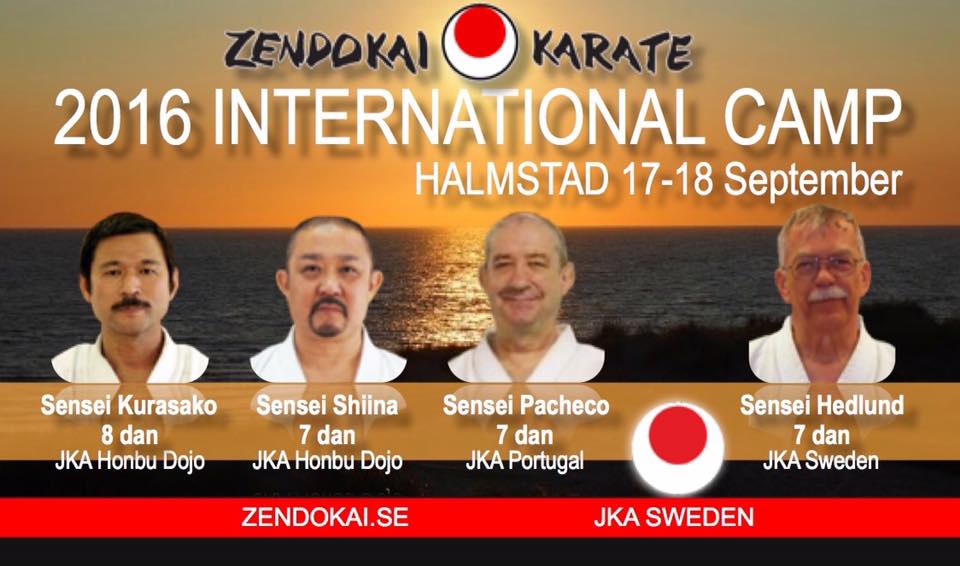 Kurasako Kenro, 8 Dan, JKA HQ
Shiina Katsutoshi, 7 Dan, JKA HQ
Pacheco Peté, 7 Dan, JKA Portugal
Hedlund Ted, 7 Dan, JKA Sweden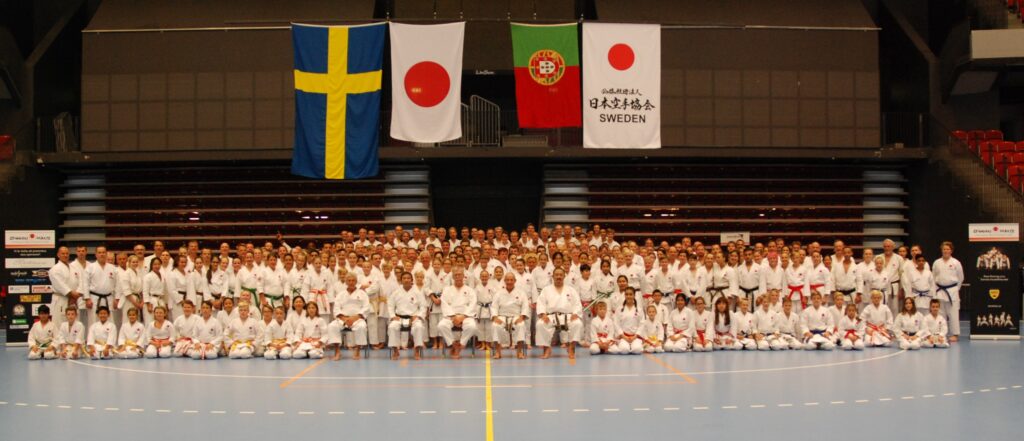 Pictures (FlikR) https://flic.kr/s/aHskREBi1o